Hypnotherapy for Urinary Incontinence
Melissa J. Roth, PhD
Hypnotherapy is extremely effective at reducing or eliminating the symptoms of urinary incontinence. Urinary incontinence is usually a result of three separate conditions that produces the same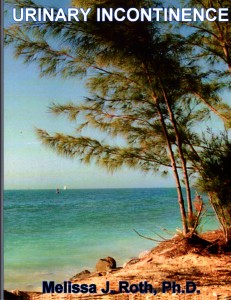 outcome. That is the unwanted leakage of urine. Between these three conditions, one out of six adults are affected. Although there are a few medications that are helpful, the side effects usually are more bothersome than the leakage. For people on a fixed income, the cost of medications is prohibitive. However, the urinary leakage problem is mostly functional and emotional and is therefore manageable and preventable.
It is widely accepted within the medical community that biofeedback training is effective for urinary incontinence. The greatest drawback is that it takes months to accomplish and most people have given up before they see progress. Hypnosis, however, is relatively quick and enhances any biofeedback training the client might be doing and yields results in a few weeks compared to a few months.
The book, Hypnosis for Urinary Incontinence, provides all the information you need to successfully assist clients with urinary incontinence, a common problem that is responsive to hypnosis. A sense of urgency and leaking urine does not have to be a part of normal aging. This hypnotherapy program improves bladder control and plugs the leaks, leaving your clients dry and able to enjoy normal activities again without worry. You will be your clients' favorite plumber!
Table of Contents
Introduction
Who is Affected?
What is Normal?
Anatomy and Physiology
How the Urinary System Works
How Continence Develops
Steps to Voiding
What Affects Normal Functioning
Causes of Chronic Incontinence
For Men Only
Types of Urinary Incontinence
Prognosis
How to Fix the System
Hypnosis
The Hypnotic Protocol
Inductions 1 and 2
Scripts
Desert Training

Control Rooms

Forgetting

The Conductor

Breaking Through

A Parts Party

Anxiety Reframe
With our aging baby boomer population, more and more people will need help in this area. this book teaches you everything that you need to know in order to be successful with the clientele.
Melissa Roth, PhD is a certified clinical hypnotherapist and holds a PhD degree in Hypnotherapy. She is certified through the American Council of Hypnotist Examiners and is also a member of the American Board of Hypnotherapy. She is a world renowned therapist, author and lecturer. She founded the Alabama Hypnotherapy Center in Birmingham, Alabama and has been symptom free from Fibromyalgia since 1997.
Dr. Roth currently provides private and group hypnotherapy services in Colorado. Also, she teaches graduate seminars and workshops on medical applications of  hypnotherapy in the US, Canada, Singapore and London. Geriatric and Palliative Care Grand Rounds for the  University of Alabama, Birmingham Medical Center. She has been a Medical Hypnotherapist since 1995.
$45.00