Katherine Zimmerman, CHT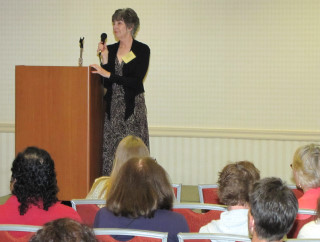 Let me tell you why I became a hypnotherapist. In 1981 I took a self hypnosis class for managing chronic pain. I was amazed at how easily I could use my mind to alleviate pain. I also discovered the benefits of stress reduction, focus and concentration and much more.
Now, in the beginning, I only used self hypnosis if I were in pain or when I was hospitalized. And even though I was using it sporadically, I was enjoying tremendous benefits. I can tell you from personal experience that even low grade chronic pain destroys the quality of your life.
By 1989 I'd had numerous positive hypnotic experiences so when the opportunity to become a hypnotherapist showed up, I was excited to learn how to help others.
Once I became a hypnotherapist I started practicing self hypnosis daily because it is the best self help tool that I've found. Over the past 20+ years I have cleared out my dysfunctional childhood issues, overcame my fears of public speaking, accelerated physical healing numerous times and had surgery without needing pain medication.
Having personally experienced the life changing benefits from hypnosis and hypnotherapy I would love to help you achieve similar goals in your life.
In addition to training in Advanced Hypnotherapy with the late Gil Boyne, in 1998 she took EFT training with Gary Craig, the developer, and has studied his video programs as well as taken additional in-person advanced EFT training with Gary.
Details
Certified Clinical Hypnotherapist 1989 – present
Workshop Facilitator
Self Hypnosis Training (adults and teens)

Learning to Love Yourself

Balancing Our Lives (formerly Feel the Fear and Do It Anyway)

Past Life Regression/Future Life Progression


Stress Reduction

Self Esteem

From Fear to Freedom

Taught through the Experimental College, UC Davis 1991-2005
ACHE Approved Hypnotherapy Instructor
Click here for CE courses and the Integrative Hypnotherapy program: 
Published Author
Hypnotherapy Scripts, Vol. 1

Hypnotherapy Scripts, Vol. 2

Hypnotherapy Scripts, Vol. 3

Hypnotherapy Scripts, Vol. 4

Hypnotherapy Scripts, Vol. 5


The Business of Hypnotherapy: Establishing and Maintaining a Successful Practice (out of print)

Business Solutions: Building a Successful Holistic Practice

Instructor's Manual: Self Esteem and Stress Reduction

Instructor's Manual: Self Hypnosis Training

Instructor's Manual: Hypnosis for Public Speaking

Instructor's Manual: From Fear to Freedom

Instructor's Manual: Learn to Love Yourself

Instructor's Manual: The Emotional Freedom Techniques (EFT)


Finding Your True Self: Using Hypnosis and Other Tools to Uncover the Real You E-book

Hypnosis for Weight Control

Hypnosis in Action E-book: Verbatim Case Histories Using Parts Therapy, EFT and Other Powerful

Modalities

Finding Your True Self: Teacher's Edition E-Book

Continuing Education Courses: EFT, Past Life Regression, Hypnotherapy Refresher, Intuition & Spirituality, Age Regression, Therapeutic NLP, Parts Therapy

Click here for a listing of Katherine's books: https://trancetime.com  Click on the "store" link
Editor
The Hypnotherapist's Creative Guide (out of print)


The Worldwide Hypnotherapist's Book of Scripts and Inductions
Lecturer
Presents annually at the American Council of Hypnotist Examiner's International Hypnotherapy Conference
Southwestern College, Dept. of Continuing Education, 2013-2016
Memberships
Speaker's Network, University of California, Davis


American Council of Hypnotist Examiners

Board member, American Council of Hypnotist Examiners
Note: Services to be provided do not include the practice of medicine, as Hypnotherapists are not licensed physicians. These services are non-diagnostic, and are complementary to the healing arts services that are licensed by the state. The primary purpose of licensing laws for legally defined Healing Arts and Mental Health professionals is to protect public health and safety. The Legislature finds that these non-medical complementary and alternative services do not pose a known risk to the health and safety of California residents, and that restricting access to those services due to technical violations of the Medical Practice Act is not warranted. Accordingly, Hypnotherapists are not issued licenses by any State Governmental Agency to engage in their professional services.