Integrative Hypnotherapy
Offering independence, flexibility,
and support
Next course begins July 7, 2020
The July training meets live, online and in person for local students. 
We have many options these days for hypnotherapy training. One of the most popular is distance learning. On the one hand, it allows you to learn at your own pace and in a time frame that fits into your schedule.
On the other hand, hypnotherapy isn't easily learned with online videos only. Here is what I believe you need in order to be successful after you graduate:
Supervision: Students who were in class would hear the lecture, ask questions and see a live demonstration. However, when they paired off to practice they sometimes still felt lost. If all you have is reading material and a video to view you will stay lost. That's the value of supervision. An instructor is there to correct you and guide you as you learn.
I have been supervising students since 1994.
Clear your issues: Life has a way of leaving us burdened with traumas from the past. For those learning hypnotherapy solely from online videos, there is no opportunity to clear those out. Unfortunately, you would then be unable to fully assist your clients when they present similar issues. And they will. In the program YOU will be the subject as you learn the material from the inside out, allowing you to heal your past. And, rather than working with a novice, much of the time you will be working with your experienced instructor.
I healed so much of my past after learning hypnotherapy that I was able to leave a dysfunctional marriage.
Learn from an expert: Everyone and their brother now offers online hypnotherapy training. I believe that it's important to learn from someone whose teaching style matches your learning style and someone who has been in practice for a minimum of five years.
I have been in practice since 1989.
Learn about the history of hypnosis here
Field tested coursework: In order to determine if a course works, it is necessary to teach it in a live class. Once the material has been modified to fit a classroom environment it is ready to be offered as a live, online program.
I have been writing course curricula and teaching personal growth classes since 1989 and teaching hypnotherapy since 2000 and my own curricula since 2007.
What students receive: students receive a manual, lecture mp3s,and 120+ hours of instruction for the basic 200 hour program. Includes a total of five demonstration videos, two e-books: Hypnosis in Action and Business Solutions.
Students will conduct 20 practice sessions outside of class during the 200 hour program.
Class size is limited to 6 to ensure personal attention.
Click here to learn more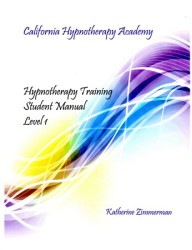 "Katherine is an amazing gifted teacher. Her class was my very first exposure to learning hypnotherapy. Her ability to teach challenging material while simultaneously instilling self-confidence and ease with delivery goes beyond remarkable. She literally was able to take me far beyond the fundamentals by completion of Level Two. Katherine helped me gain the assurance to use this clinical methodology within my own medical practice. Hypnotherapy has become an exciting clinical tool that I use often in my medical practice to help my patients with the emotional burdens and struggles with life. I am a physician who believes that using only medication to help patients with pain and suffering is not enough.  My realization for the enormous shift I made in my abilities with hypnotherapy came shortly after our class was completed.

"I am giving this example through a very personal story. I was able to help a very close friend come to terms with his death. His life had taken a very bad turn from cancer. He was in crisis, was suffering and very emotional. As it turned out, it was his last few weeks on earth. I used many of Katherine's scripts during our multiple hypnotherapy sessions. Her writings are very beautiful and inspiring. My friend, in the end, was able to pray, all suffering was eased and he passed peacefully. I would not have been able to help him without the ability to teach him self-hypnosis. I highly recommend Katherine's class to all those interested in learning this gift."                                                                    Sandra Perez, MD, HT

---

"Katherine is an excellent therapist drawing on her extensive experience,, her depth of understanding, intuition, compassion and wisdom. She is highly professional with a warm, approachable manner. I highly recommend Katherine Zimmerman without reservation."

Sallie Albertina, CHT
The California Hypnotherapy Academy has exempt status with the State of California BPPE per CEC 94874 (A) (D-1) (D2c)