Each of us is unique. No one else can be the unique piece of the puzzle for us or better than us. We're all pieces of a puzzle, and like all puzzle pieces, we do fit. It's time now to recognize ourselves as the important, unique individuals that we are, so that we can shine our lights more brightly.
The following story may be helpful in assembling your own puzzle pieces and where you fit. Feel free to write your own ending.
From Hypnotherapy Scripts. Vol. 5
All rights reserved.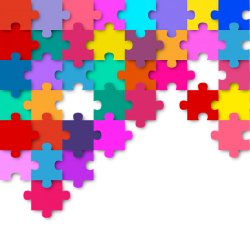 There were many old board games and puzzled stacked high in the closet on that rainy winter night. The girl stretched her arms up to the high closet shelf to reach the 3,000 piece puzzle at the top. The picture was faded but looked familiar. She stretched and stretched higher but it was just out of her reach.
She thought for a moment, then dragged a footstool into the closet, climbed up and carefully pulled at the edge of the box containing the puzzle. It was an old, fragile box so she carefully pulled it forward until she could almost grab it. As she reached for it she felt herself slip and the box came apart as it fell, scattering those puzzle pieces everywhere.
"Well," she thought, "now what? How can I ever find all those pieces so that I can put this picture back together?" She sighed and sat down, feeling discouraged before she even began.
She examined the puzzle pieces lying on the closet floor. Even though they were scattered in every direction none of them appeared to be damaged. The sides of the box were bent and torn, but nothing that couldn't be repaired. The girl realized that there was no sense picking up the pieces until they could be safely stored again. So she took a deep breath, got up and found some materials to repair the box.
The box repair took longer than she had planned. The glue needed time to dry and the tape was difficult to peel off the roll. Perhaps paper clips might work just as well and she could be finished more quickly, she mused. In the end she found another project to keep her busy. After all, it would be better in the long run if the container were properly repaired.
While she waited for the glue to dry, the girl found a broom and swept the scattered puzzle pieces into a large pile. They made no sense all jumbled up like that. They didn't resemble the picture on the box at all. She was tempted to just throw them all away. "Why," she realized, I might not even find them all!" Nevertheless, she put all the pieces into a neat pile, then found a flashlight and began searching for any pieces that might be hidden in the back of the closet.
With the container repaired and ready for use again, the girl placed the recovered pieces inside and carried it to a large table. First she dumped all the puzzle pieces on the table, then turned them all right side up. Next, she picked out all the edge pieces and placed them to one side. The next day she grouped the matching colors together.
And later that week she was ready to build the puzzle. She propped up the lid to the box but the picture was so faded that she couldn't use it as a guide. With each problem that working on the puzzle presented the girl became more determined to reassemble the picture. "No matter what it takes," she decided, "I will get this done."
Every evening, right before she went to sleep, the girl worked on the puzzle. She found edge piece that fit perfectly, outlining the picture. Sometimes she got into a rhythm with fitting the pieces together and time just flew by. And, even though she didn't know this consciously, at night while she slept, her mind continued to work on putting the puzzle together for her.
Little by little the picture began to take shape. Some days she was sure that she knew what the final picture would look like while other days she was less certain. And then, when the puzzle was almost completed, she could see that she simply didn't have all the pieces.
Being determined to do this right, the girl took her flashlight back into the closet and searched for the missing pieces. She crawled around in the dust, poked into corners and even disturbed a few spiders. There she found the missing pieces, way back in the corner. One by one she recovered them and placed them into the picture.
And there it was. A completed picture. This picture is very special because… (personalize)